The fine folks at Engima Bookstore in Astoria Queens hosted myself and a collection of comic book creators like me for a panel discussion and signing this past Saturday. In one word: AWESOME! Always a blast talking comics with fans, peers and new friends.
Joined by
joined by Jared Barel, Oliver Mertz and Mike Isenberg – See more at: http://mikebooks.com/Enigma_Bookstore_Signing_and_Panel_Discussion#sthash.197J2FuY.dpuf
Jared Barel, Oliver Mertz and Mike Isenberg the four of us dished about our comics, storytelling in general, self-publishing and more. The highlight for each of us I would imagine is actually reading (and in some cases actually ACTING out the scene) from our comics. Have you ever tried acting out your own comic? Or even reading it out loud? Gotta admit it was actually refreshing that when i read from The Sire TP the dialogue didn't sound corny or cheesy (at least to me :) If there's one takeaway for up and coming writers I would suggest you do just that. You'd be surprised. Here's a shot of my fellow creators: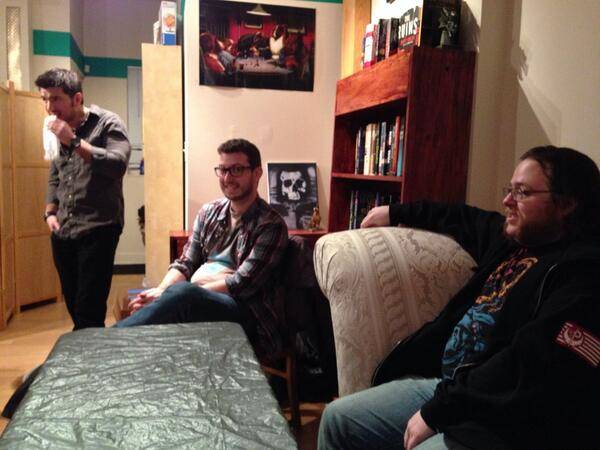 Jared (in mid bite), Oliver and Mike.
Other highlights besides talking about myself (who doesn't love that :-P) was learning about some cool projects from other creators. Jared Barel has two graphic novels completed, the most recent being "Brielle And The Horror." It tells the tale of a sixteen year old born with a demon inside of her and let me tell you, the artwork is GORGEOUS! Can't wait to read beyond the scene Jared read from at the panel.
The other project was "First Law Of Mad Science" by Isenberg and Mertz. It tells the tale of a future where cybernetic eye implants change humanity…and also causes folks to hallucinate like Shatner on an airplane. Are the demons people with implants are seeing real? The creators have a ticking clock to find out just that. The interplay between the guys was fun and as someone who has collaborated in the past, it's interesting to see that dynamic take shape in others.
All-in-all a fun night was had by all. Got any questions on self-publishing or writing comics and couldn't make it out? Let me know! I'm more than happy to talk shop. I mean, heck, it beats working…
Want to check out some of the comics mentioned above? Follow @FirstLawComic @Michael_Dolce & @LoadedBarrel1 on Twitter!