I'm counting down the days when I can launch my first Kickstarter comic campaign for The Undone #1 a brand new tale of powers and corruption in the Wall Street sector of America. So in the meantime I reached out to Omar Morales, a creator who just successfully launched his own Kickstarter campaign for his Graphic Novel The CruZader – and for whom I contributed colors for the project. He gives us his experience delving deep into the Kickstarter world. Omar, take it away!
Omar Morales – creator The CruZader
So, you want to start a Kickstarter campaign, eh kid? Let me tell you, as someone who ran a campaign late last year, it is not for the feint of heart. Even successful campaigns can bring a lot of unintended consequences for people that aren't prepared to fulfill thousands of pledges from a campaign that goes viral. On the other end, I've seen campaigns that generate zero pledges and zero dollars – what a heart-breaking epic fail.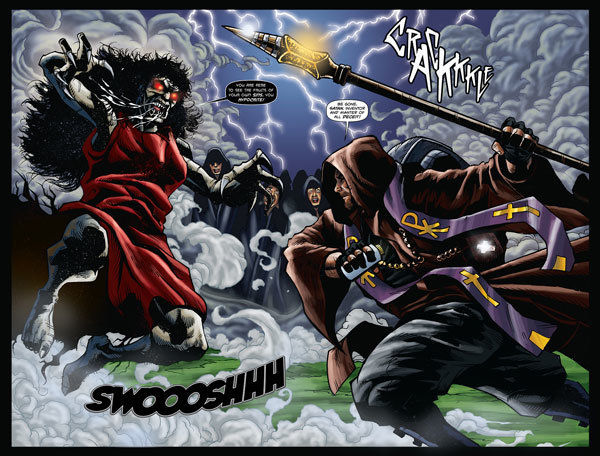 If you do nothing else, study Kickstarter campaigns within your category before you start, plan your campaign and publicity tactics in advance, and limit your exposure by knowing exactly how you will fulfill your rewards ahead of time. I rushed into my campaign a bit too soon, and wish I had spent more time on creating the rewards and tiers ahead of time. Luckily I was able to go back and create more tiers after I realized that I needed a tier where backers could get my graphic novel á la carte in the $30 range, as opposed to $50 and $75 with a bunch of extras that could potentially price them out of pledge range.
At the end of the day, I had success, but I had to scramble and reinvent the campaign continuously throughout the 60 days that I was stumping. Some advantages that I had going in:
• I had incredibly generous family and friends that knew that my graphic novel was a dream that I'd been working to realize for many years. My average pledge was well over $100 thanks to big ticket pledges from family and friends.
• The graphic novel was pretty close to being a finished product, as opposed to an idea. The writing and art were all done. The colors and letters were almost done. All I was raising money for was finishing touches and printing, so my project was a safe investment for backers.
• As an ex-PR man and journalist, I knew how to generate publicity – some of it didn't generate a single pledge, and some of it generated all the pledges I needed to get me over the hump.
• My rewards were pretty much in-house already; all I needed was the graphic novel. All of my goodies and extras were things that I had on hand. Maybe I could've done more with t-shirts, bookmarks or bumper stickers, but ultimately I decided to stick to original artwork and scripts.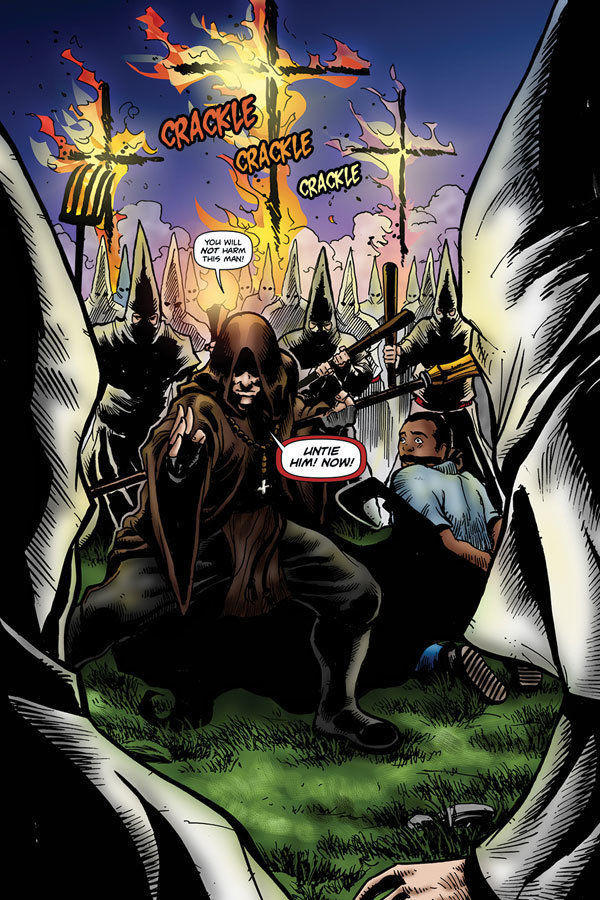 Regardless of how prepared or unprepared you are, you will not rest. You will not sleep. The campaign will consume you. If you're at a movie, out to dinner, trolling around on the internet, whatever, your mind will drift toward the inevitable question: what else should I be doing to push my campaign right now? For me, this question motivated me and kicked me into high gear. I started studying other campaigns and fleshing out my marketing and publicity campaign on the fly. On top of this, I sent a steady stream of solicitation e-mails to family and friends – and what an interesting psychological experiment that was! Fellow comic book fans and close friends completely blew me off, and people I haven't heard from in years were some of the first to jump in head first with pledges of $100 or more. Friends with competing Kickstarter comic book campaigns will suddenly stop communicating with you. Don't try to figure it out, just keep it moving, or it will drive you crazy. Try to balance the euphoria of the push notifications to your mobile phone every time a pledge rolls in with the disappointment on days when zero pledges come in.
In terms of advertising, you have to spend money to make money. There is no way around it. Begging on Facebook and Twitter will not win friends and influence people.However, investing $100 or $200 for legitimate Facebook and Twitter ads is solid and will generate clicks to your campaign because you can target exactly who your audience will be by their interests, geography, and who they follow. Both Twitter and Facebook will generate analytics to help you understand how your ads are tracking. This is valuable.
At the same time, I would advise you not to spend a single penny on the legions of crowd sourcing leeches that market themselves as experts that can boost your campaign. They are all full of crap – every last one of them. I invested in a handful of services, and none of them yielded a single pledge. Many of them are one-person operations that try to make themselves look like legit companies and they are so overwhelmed that they deliver zero value or professional follow up. Worthless. Trust me.
The best salesperson for your campaign is you. Don't rely on anyone else to carry the burden for you. The internet will not help you. Celebrities will not retweet you. Some of your closest friends will not care. Pour every ounce of passion you have for your project into: your campaign video (and keep it short), what you write on your Kickstarter campaign page, and into your pitches to bloggers, podcasters and trade media. Passion works. Energy yields results. Potential pledges will convert into dollars if people feel you are genuine and that you will deliver what you say you will deliver.
It worked for me. It can work for you.
'Nuff said, true believers.
Your friendly neighborhood self-publisher,
Omar Morales