This post was originally published on Screenrant
Spider-Man is one of the most popular comic book characters of all time, as proven by his continued presence in pop culture and cinema. Created by Stan Lee and Steve Ditko, the Marvel Comics' resident webhead has been one of the most beloved and adapted superheroes of all time, with Spider-Man being portrayed by three different actors in three franchises over the past two decades.
RELATED: Spider-Man: Every Final Battle In His Movies, Ranked
While the Marvel Cinematic Universe (MCU) is the current top dog of the superhero movie boom, there is good reason to believe that the MCU wouldn't be what it is today without the pioneering work of Sam Raimi's Spider-Man, Spider-Man 2, and Spider-Man 3. Without further delay, here are 10 things fans never knew about Raimi's acclaimed superhero trilogy.
10

Jake Gyllenhaal Was Almost Spider-Man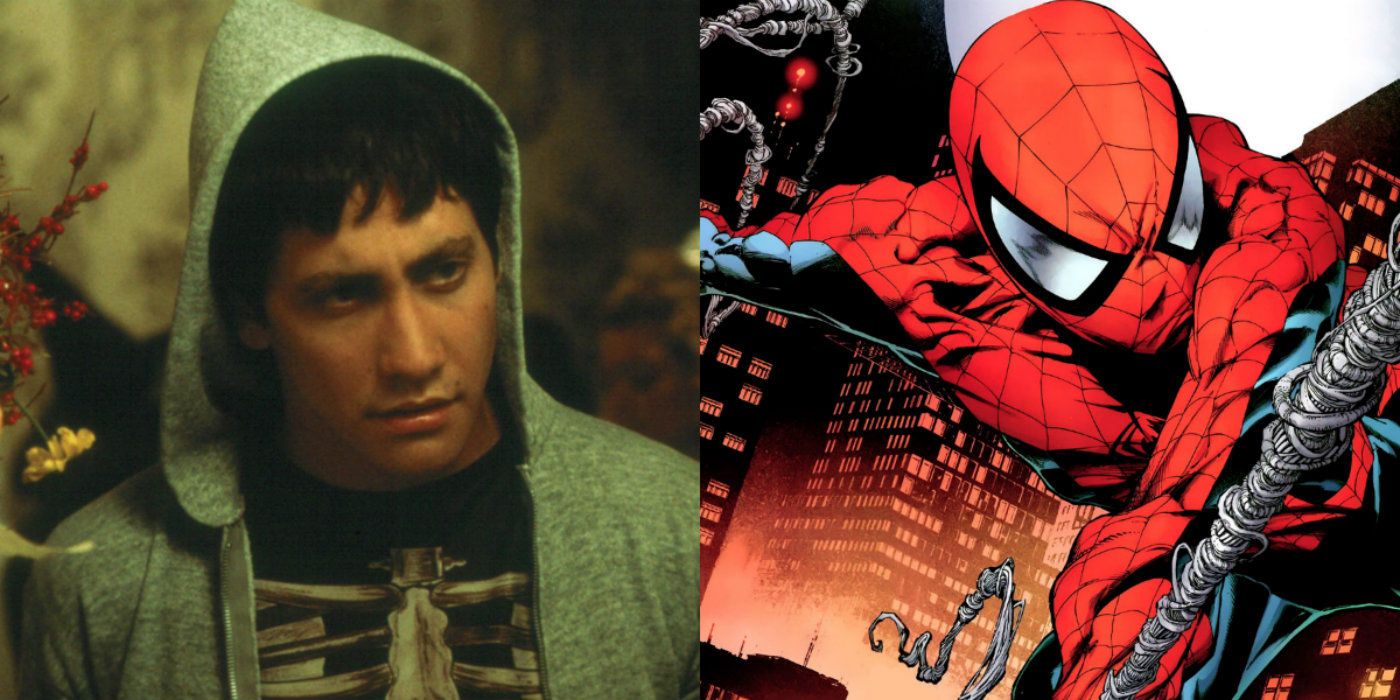 Anyone who's seen the most recent Spider-Man movie – Spider-Man: Far From Home – remembers that Jake Gyllenhaal starred as the classic villain, Mysterio. However, the actor was actually meant to appear in a Spider-Man movie as early as Spider-Man 2, when he was tapped to replace Maguire. 
The reason for this was the Maguire injured his back during production and was unsure as to whether he would be able to finish the film. Despite training for the role, Gyllenhaal would ultimately be dropped as Maguire successfully completed filming the sequel. And speaking of Mysterio…
9

Mysterio Almost Appeared
Fans of the Raimi trilogy will know that one of the constant features of that Spider-Man era was Bruce Campbell's cameos, with the Evil Dead actor appearing in different roles in all three films in the trilogy.
However, a storyboard for Spider-Man 4 revealed that Campbell was set to play the villain Mysterio, leading some fans to speculate whether he had been Mysterio all along.
8

There Was A Comic-Accurate Goblin Mask
The Green Goblin suit in the first movie was a new take on the iconic villain's usual costume. The movie version kept the creepy goblin aesthetic, but merged it with a more tactical and military design.
However, originally, the crew were aiming to have a more comic accurate costume. This approach was ultimately dropped as they thought it was too creepy.
7

Sam Raimi Didn't Want Venom In Spider-Man 3
One of the main issues with Spider-Man 3 was the abundance of villains. Many thought that this oversaturated the movie and Raimi would agree, as he did not originally plan on including Venom in the film.
RELATED: Sam Raimi: 10 Things He Brought To Spider-Man (That He Could Bring To Doctor Strange)
Raimi was actually pushed to include the Symbiote after the studio decided that they wanted to include the iconic villain in the film.
6

Vulture Was Set To Appear In Spider-Man 4
While this list has already said that Mysterio was set to appear, another character who received their debut in the MCU version of the Webhead was the Vulture, with actor John Malkovich set to take on the role. And just like Mysterio, Vulture could've had an earlier debut if Raimi's plans were continued.
There are several storyboards online that detail some conflicts between Spider-Man and the Vulture. It's a shame that Sam Raimi didn't get to make Spider-Man 4 to, theoretically, correct the mistakes of Spider-Man 3. 
5

Willem Dafoe's Spider-Man 2 Cameo
Willem Dafoe turned in a fantastic performance as Norman Osborne aka the Green Goblin in the first movie in the trilogy. His performance was so good that many wished the character hadn't been killed off. He does, however, return briefly in Spider-Man 2, where he tells his son to avenge him.
RELATED: Spider-Man: 10 Actors Who Were Almost Cast In The Webslinger's Movies
While some may think it was this popularity that led to his cameo, it was actually just the result of luck. Dafoe lived near where the crew was filming the sequel and popped over for a visit, and one thing led to another.
4

Mr. Ditkovitch Was Based On Steve Ditko
Some of the best comedy from the Spider-Man trilogy came from the interactions between Peter Parker and his landlord, Mr. Ditkovitch. The landlord was constantly asking Parker for his rent and, as a consequence, Parker was always finding new ways to avoid him.
What is interesting, however, is that Mr. Ditkovitch is a reference to Spider-Man co-creator and Marvel Comics legend, Steve Ditko. Ditko famously co-created Spider-Man with Stan Lee, but left Marvel Comics due to creative differences.
3

Doc Ock's Tentacles Have Names
Alfred Molina's performance as Doc Ock in Spider-Man 2 was one of the best elements of the movie, with the actor brilliantly portraying both the tragedy and the menace to the iconic Spider-Man villain.
What is interesting, however, is that during filming Molina gave each of his tentacles their own pet names; Larry, Harry, Floe, and Moe. Molina suggested that Floe was the more motherly of the four tentacles. as this one adjusted his glasses during the movie. Also, three of the four names were taken from the Three Stooges.
2

Wolverine Almost Had A Cameo
Interconnected universes are all the rage at the moment. Marvel have been the most successful, and Universal tried with their Dark Universe, Warner Bros tried with their DCEU and Godzilla universe – all to varying degrees of lukewarm success and outright failure.
However, there was originally a plan to include a hint toward a shared universe as far back as Raimi's trilogy. Hugh Jackman was set to make a cameo as the X-Men movies' Wolverine in the first Spider-Man movie, but the studio was unable to access his costume to do so. Despite the fact that Wolverine didn't appear, the Raimi trilogy does hint towards a wider universe, with J. Jonah Jameson mentioning a certain Dr. Strange.
1

James Franco & Tobey Maguire's Feud
While Harry Osborne and Peter Parker wouldn't have a feud until the third installment in the trilogy, James Franco and Tobey Maguire had a real life feud that persisted long after the conclusion of the trilogy.
This feud came about after James Franco made fun of Tobey Maguire's 'frog-like' features during the filming of Spider-Man. This has even led some fans to suggest that the 'frog' living in Tom Holland's mouth is actually Tobey Maguire. For obvious reasons, this feud lasted for quite some time.
NEXT: 5 Actors Who Could Play Doc Ock In The MCU (& 5 Who Could Be The Green Goblin)
--
Secrets of the Sire is a news aggregator for the latest Pop Culture news. Our podcast has now become the Rogue Wave Podcast and can be found at: Roguewavepodcast.com.